About Lágbájá
The first question that is often asked when Lágbájá is encountered is, "Why the mask"? Basically, Lágbájá wears his mask as an iconic symbol of man's facelessness.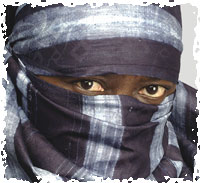 Lágbájá is a Yoruba word that means somebody, nobody, anybody or everybody. It perfectly depicts the anonymity of the so called "common man". The mask and the name symbolize the faceless, the voiceless in the society, particularly in Africa. Once you see Lágbájá's mask you are reminded of your own facelessness.

Though the concept was developed much earlier, his first album was released to National acclaim in 1993. Over the years and more albums later, his music has continued to fascinate with its interplay of traditional African drums and Western instruments which create a unique and enchanting soundscape. His music is a product of various influences ranging from traditional Yoruba music to Jazz. Often, it is purely instrumental but when there are lyrics, they are primarily sung in Yoruba, English or a blend of the two as is colloquially spoken in Nigeria. Lágbájá has christened his music Africano, alluding mostly to the central role of African drums and rhythms in his groovy fusion.
While many of his songs simply entertain, most are about serious social issues. He passes impactful serious messages in humorous ways and continues to use his music as a catalyst for the emergence of a better society.
Lágbájá's Africano is driving a resurgence of interest in sophisticated African music, rich in the traditions of the continent while cosmopolitan in attitude. In a bid to share his African grooves with the rest of the world and make African rhythms understandable and accessible to everyone, Lágbájá has developed and produced the first ever comprehensive digital library of "drag and drop" Yoruba grooves he calls "Africano Manchine". An artistic marriage of man and machine, Africano Manchine works seamlessly with popular Digital Audio Workstations such as Ableton Live and Pro Tools and plays a major role in his newly pioneered Elektro Groove Music (EGM).
Lágbájá has taken his music beyond the shores of Nigeria, performing in festivals and venues around the world.